Trees are beneficial to our environment. They keep the air space clean, provide shade, and make the property aesthetically appealing, increasing its value. However, trees require special care and maintenance, unlike most plants in gardens and homes. Whether planting, pruning, or cutting trees, handling trees can be a hassle for most people and requires the knowledge and skills of a tree expert.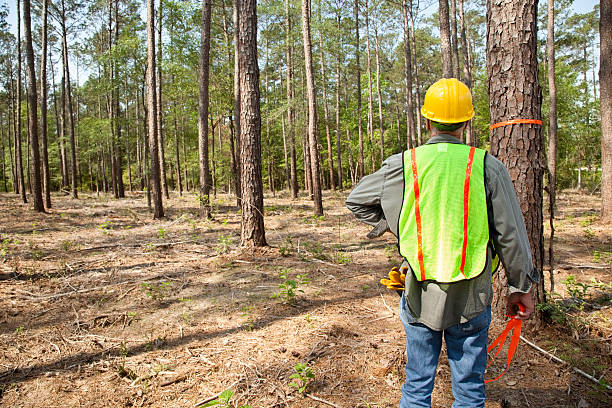 A certified arborist will help you with every stage of tree care, from choosing tree species to cutting down a tree, preventive maintenance, and other tree care services.
Arborist Services
Arborists offer the following services;
Tree Planting and Replanting
Arborists provide tree planting and replanting services to residential and commercial property owners interested in growing trees on their property. Planting trees involves a lot of planning and proper tree care to ensure that the tree thrives. When choosing a tree to plant, you must consider various factors, such as the soil type, water availability, layout, and the type of trees that grow well in your region. Arborists understand the needs of various tree species and will help you choose the most suitable tree for your lawn or property.
Arborists plant trees and provide the following services to young trees:
Cabling
Cabling involves using cables on some parts of the tree to minimize movement and keep it stable to avoid breakage and encourage growth. Arborists also use bracing and cabling to support weak and heavy branches.
Aeration
Soil aeration involves creating holes and air pockets to allow water and air absorption into the soil. Arborists understand the aeration methods needed for tree growth.
Fertilizer Application
Like most crops and plants, trees require nutrients to flourish. Hiring an arborist will help you establish the nutrients your soil and trees need for optimum growth.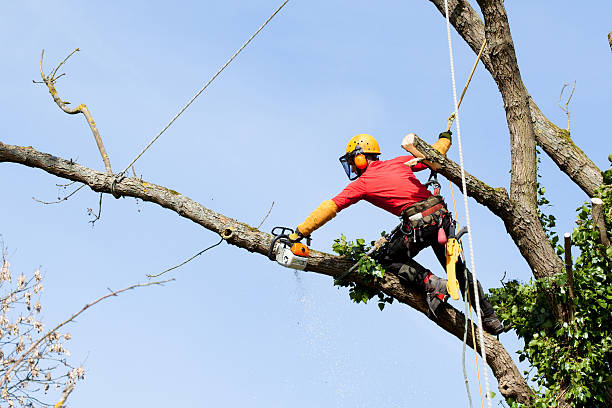 Pest Control
Some herbicides and chemicals may be harmful to your trees and cause damage. Consulting a tree expert will help you get the information you need on pests, diseases, and pest control methods.
Tree Pruning and Trimming.
Pruning is essential for plant health care and growth. By pruning and trimming your trees, you stimulate and encourage their growth, improve their appearance, and prevent decay. In addition, tree trimming promotes safety since heavy broken branches can fall on roofs or cause injury.
Trimming and pruning trees requires skills and technique. Various methods are used in pruning depending on the size and shape of the branches, tree problems like diseases, and the reason for pruning. The following are the different functions of pruning.
To eliminate hazardous branches that can cause serious electrical issues and damage to property.
To cut off rotting limbs or branches damaged by pests and diseases. Removing these tree parts ensures that the tree stays strong and healthy.
Aesthetic purposes. Trimming trees makes them more attractive, maintains their natural appearance, and increases your property's value.
To minimize wind and storm damage.
To allow light penetration. Overgrown and unpruned branches can obstruct sunlight and keep natural light from reaching your living space.
To remove weak and damaged branches. Arborists also prune limbs that are in close contact with each other.
Emergency Tree Work
Harsh weather conditions and disasters like storms can destroy trees, homes, and commercial property. Removing these huge storm-damaged trees can be very difficult after such disasters. However, certified arborists are well-equipped and trained to handle such emergencies and to move heavy branches and large trees without causing further damage. Hiring arborists after storm damage will help you save your property and quickly recover from the disaster.
Tree Removal
Hire an arborist if you need to cut down and remove a tree from your property or for industrial purposes. A tree care professional will help determine if tree removal is necessary and safely remove the tree. Removing trees requires special equipment and skills. The following are the conditions where tree removal may be needed;
If the tree poses a serious threat to the property and the people in its surroundings,
In the case of dead and dried-up trees.
When the tree is in an area under construction.
In the case where a tree negatively affects the growth of other trees.
If a tree causes significant blockage even after pruning.
Factors to Consider Before you Hire an Arborist
Certification
Before hiring arborists, ensure they are certified and approved by the International Society of Arboriculture. ISA-certified arborists are reliable and highly skilled in tree work and offer proper tree care services. In addition, they have adequate knowledge of different tree species and tree work techniques.
Good Reputation
Like any other service, reputation is critical when looking for an efficient arborist. Most reputable companies are well known in their communities for their quality services. Asking for references from people who have had positive arborist experiences will help you find a reliable tree expert.
Insurance
Ensure that your arborist has property damage insurance and workers' compensation insurance. An insured arborist will help you save money and avoid legal issues in the event of an accident.
Professionalism
Most reputable arborists are professional and efficient. They have undergone thorough training and knowledge of trees and tree care practices. Professional arborists also have ISA arborist certification and belong to a tree care industry association, such as the American Society of Consulting Arborists.
Licensed
Government agencies require arborists to have business licenses and permits in some areas. Therefore, find licensed tree companies that an insurance company also insures.
Contracts
A professional certified arborist will create a contract before working with you. Ensure you review the contract carefully before signing any papers & make any necessary inquiries, such as costs & hourly rates.
Why Choose Our Arborist Services In West Palm Beach, FL?
If you are a West Palm Beach, FL resident looking for a professional certified arborist, look no further than ECO Tree Experts. We are a family-owned tree service provider with many years of experience in all kinds of tree work. We offer different arborist services to homeowners &commercial property owners in West Palm Beach, FL. These services include tree trimming & pruning, tree removal, industrial & municipal services, and 24-hour emergency tree service.
We are efficient, affordable, well-trained, and equipped for different tree care services. Our company is insured, licensed, and certified by the International Society of Arboriculture. Contact us today!